Social distancing and the stress of the global pandemic will increase the need for therapy during coronavirus. As coronavirus spreads across the world, government institutions and private organizations are introducing strict regulations, which includes maintaining social distancing, to prevent people from contracting it. Factors, such as business shutdown, self-isolation, and social distancing, are taking a toll on people's mental health.
The Need for Therapy During Coronavirus
Healthcare professionals caution that a lot needs to be done to protect the mental health of people in these testing times. What's worse is that due to the pandemic, therapists are canceling their in-person sessions with clients. However, the demand for therapy services is extremely high as people are embracing their new roles at home. Several people are finding themselves falling into the dark abyss of isolation. It is, indeed, a once-in-a-century event for therapists as their clients attempt to fight off the psychological blow inflicted by the coronavirus. As a therapist popularly said that they "don't get training in Pandemic 101", which couldn't be truer than it is now.
People are coming in with fears regarding the global outbreak. When asked, they point toward their source of anxiety: the new facts and figures on social media websites like Facebook and Twitter, especially the growing number of deaths by the coronavirus.
The brain senses danger when so much negative information is easily accessible. It culminates in the greater production of stress hormones. Unfortunately, like other news events, such as politics, where therapists can ask their patients to stop the consumption of information overload, they can't do the same in the current pandemic. This is because orders and recommendations from government and healthcare facilities are released daily, and due to their significance, no one can ignore them.
Some doctors have recommended people to undergo a "media diet." They believe that people don't have to consume all types of news.
Social isolation accelerates the worsening of mental health disorders and other conditions. This is why therapists are recommending their clients to make use of phone calls and video chats to maintain connections.
Therapy During Coronavirus: What You Need to Know
Dr. Keith Humphreys, a professor of psychiatry and behavioral sciences, notes that the economic slump, news on the pandemic, and stress from social distancing will increase the need for therapy during coronavirus.
Although the virus outbreak has monopolized the conversations of most of these sessions, a significant change in the therapist-client communication is slowly transforming the dynamics of therapy services. Therapy couches are being replaced with laptops on tables. Amid the stay-at-home policy, several mental health services have reformed their services and adopted telehealth by relying on video chats.
Meanwhile, clients narrate the arrival of a new type of anxiety, which relates to the pandemic. Michael Archer, a psychologist, offers insight with an analogy. He compared the pandemic with an earthquake. It's easy to accept the warning of an upcoming earthquake on a psychological level. In contrast, a pandemic bears similarity to an asteroid—one that is going to wreak havoc over the world in the next four weeks. The worst part is that nothing can be done to counter it, which is why the anxiety faced by people is different than before. It is more of a slow burn.
Healthcare experts note that there are numerous accessible options that patients can access for therapy during coronavirus. However, the government and private organizations can contribute more to aid those who are in need of help.
Therapy during Coronavirus: How It's Happening
Therapists and social workers around the country are quickly switching to phone and videoconference to treat their patients. Humphreys revealed that studies have found that the effectiveness of virtual sessions is similar to traditional office visits.
Affordable video therapy costs have also made it easy for patients to find professional help. Mental health providers deserve credit to adapt their sessions and provide therapy during coronavirus. While the digital form of therapy has a lot of pros, it is not without some cons.
To begin with, not all health insurance companies cover therapy. They don't allow video sessions. Limitations also exist due to regulations imposed on therapy. Therapists can only treat remote patients in selected towns and cities as they are licensed to practice in one state. This means that even if there are a lot of available therapists in a city, they cannot provide their services to the rural town of a neighboring state. This is why many healthcare experts are calling out the government to waive off these restrictions for an indefinite period.
There are also concerns over the effectiveness of online therapy during coronavirus for patients with extreme mental issues. Face-to-face consultations are necessary for patients with depression and addiction, particularly in the early stages. Humphreys pointed out the underrated small actions—the hugs, the holding of hands, and the wiping away of tears—are extremely crucial for patients. Unfortunately, social distancing remains a worrying barrier.
According to a study in 2012, patients who used traditional face-to-face therapy, and those who used over-the-phone therapy, both were treated successfully for depression. However, after six months, the telephone therapy group slipped back into depression in greater numbers.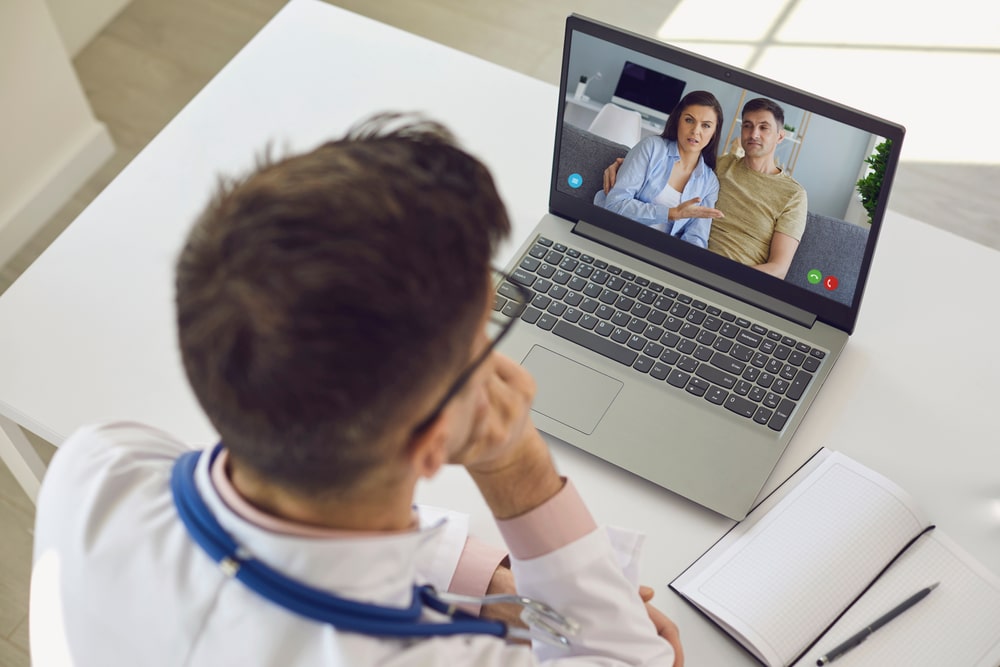 Humphreys recommends that if you know a family member, co-worker, or a friend who is feeling emotionally and mentally vulnerable, then reach out to them and support them in any way. Although it cannot replace therapy completely, a few minutes of video chat or phone call can still create a positive impact.
Local AA groups are also finalizing contingency plans, which includes setting up contact lists and keeping in touch via social media, email, and phone. This can make sure that help is offered to those who need it.